2017建築設計比賽榮獲金獎 │ 三生有幸 The House For 3 Happiness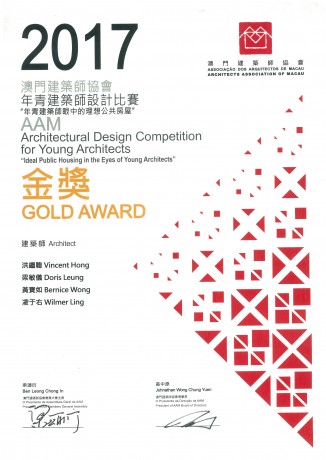 今年大會競圖主題為【年青建築師眼中的理想公共房屋 Ideal Public Housing in the eyes of Young Architects】
鑑於對現況的分析和聯合國可持續發展的目標,我們的核心概念"H³"利用裙樓提供了創新工作、並善用"開放式建築"的精神塑造了塔樓,且持有"ERP概念"來整合公園及海濱長廊的資源,也利用辦公室和裙樓商店租賃的收益來資助其他社會福利設施的經營成本。我們有兩個主要特點:
【形式】
利用凹凸輪廓來維持室內活動的物理環境質量,順暢地使用"凹"來創造陽光/通風的機會,"凸"來產生自身陰影。綠色遮陽的想法透過兩種方法落實:1)被動式:凸窗或深簷作為懸挑的遮陽系統;2)主動式:垂直/水平的綠色植栽吸引小生物而有更好的生物多樣性,多功能屋頂平台開放給大家海濱觀景和餐飲的戶外活動,特別是社區的有機農業。
【功能】
開放式
考慮多種靈活佈局,來提出萬用的結構方案。
活動
通過裙樓和公園能帶來活動的產生,如體育活動,慢跑,遠足和騎自行車。通過創建一個裙樓二層的捷徑,來連接兩側的附近區域、這增加了裙樓上商店的價值。透過提供不同大小的空中平台,讓他們在步行距離內享受(過道座位,天空花園),以增加塔居民的社交性。
Given the analysis for site's existing context and the goal of sustainable development from United Nations, our core concept "H³" defines the Podium for the innovative jobs, shapes the Tower for "open building's "spirits, and possesses the ERP's idea to integrate the Park & Waterfront Promenade with the operating cost of other social welfares subsidized by the benefit return from the Office & the Podium's shop rental. We have 2 major features on:
【Form】 Concave-Convex Curved Skin Concerned with the physical environmental quality for indoor activity, smoothly using "the-Concave" to create the chance for sunlight/ventilation and "the-Convex" for self-shade. Green Shade Sunshade ideas have been carried out by 2 methods:
1) Passive one: bay windows or deep eaves for cantilevered shading system;
2) Active one: vertical/horizontal greenery to attract little creature for better bio-diversity. Multi-functional Rooftop the Rooftop of Podium is open to everyone to have sightseeing for waterfront and F&B's outdoor activities, especially community's organic farming.
【Function】
- Open Building
The versatile structural plan for flexible layouts.
-Activities
Energy generated through the Podium & Park, such as sport activities, jogging, hiking and cycling. By creating a shortcut pathway connecting both side's neighbors through the 2nd level of the podium. This increases the value of shops in podium. Increase the sociability for the tower residents by providing different sizes of common space for them to enjoy (aisle seating, sky garden) within the walking distance.